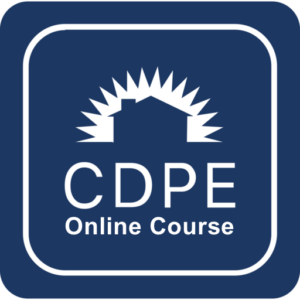 CDPE Online, On-Demand Course-NAREB Region XV
This course regularly sells for $499. Due to a Strategic Alliance Agreement between NAREB Region XV and LikeRE.com, a Professional Development and Social Network, the Certified Distressed Property Expert® (CDPE®) Course is now available to you at no cost* You will also become a registered user on LikeRE.com. Look for that welcome email and explore what LikeRE has to offer.
You would have 1 year to successfully complete this course. Course materials are copyrighted and may not be shared with others.
*Membership in the CDPE is not included. If after completing the course you would like to become a CDPE Member and have access to the benefits listed below, you would need to purchase the upgrade package. Your Miami Member special price would be only $299 for the first year and $99 per year after that. Upgrading is optional but highly recommended.
1. Logo Usage: Use of the CDPE initials and logo wherever you advertise|
2. Resources Library: Access to, and use of, our extensive library of Forms, Checklists & Disclosures
3. Completion Certificate: Proudly display your active CDPE Member status
4. Community: Private Facebook Group for collaboration
5. Referral Network: Member to Member Referral Network
6. Monthly Group Coaching Call
After successfully completing the course, use this payment link to upgrade to the full CDPE Designation and Membership: https://buy.stripe.com/14k01hgO34BZ8s89AI